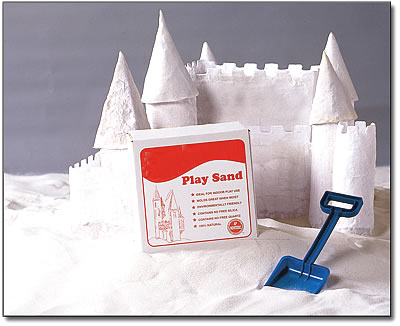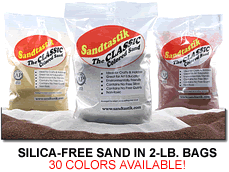 QUALITY
Silica free sand is exactly what the name suggests: white sand that has no silica and no quartz. It's the healthiest, purest sand around. The sand is commercial standard, perfect for schools, parks, and daycares. Now you can bring it to your commercial or home play area, to your kids' delight. And you won't have to worry about any allergies or adverse health reactions from children. Because it doesn't have any quartz or free silica in it, the sand is slightly more coarse than regular sand, but it's still perfect for playground or indoor use.
COLORS
This healthy silica free sand is available in color white or many different colors: Black, Brown, Brick, Burgundy, Blue, Navy Blue, Green, Emerald Green, Moss Green, Light Green, Fluorescent Green, Fluorescent Orange, Fuchsia, Grey, Lavender, Light Blue, Lime Yellow, Magenta, Mauve, Red, Rose, Salmon, Orange, Peach, Pink, Purple, Tan, Teal, and Yellow.
AVAILABILITY
Nationwide
Silica free sand is shipped nation-wide to you, at your place of business or your home. For smaller orders, the sand is available in boxes of 25 pounds (see photo above). For large orders, the sand is delivered in quantities and multiples of 2,000 pounds (1 ton).
Maryland – Washington, DC – Virginia Area
In the MD – DC – VA area, our team of playground professionals can bring you as much silica free sand as you need. We can bring it to your doorstep, or we can put it down on the ground or in your sandbox.
PRICES‡
1 lb. Bag Any color sand, including white: $3.25 each. Minimum order 10 bags.
2 lb. Bag Any color sand, including white: $5.35 each. Minimum order 12 bags.
10 lb. Box Any color sand, including white: $13.99 each.
10 lb. Pail Any color sand, including white: $21.49 each.
25 lb. Bag White sand: $21.50 each. Any color sand: $32.49 each.
25 lb. Box White sand only: $21.50 each.
†Please note that the silica referred to here is what's known as "free silica." Sand contains two types of silica: regular silica and free silica. Excess exposure to free silica may potentially cause health problems. Our sand contains no free silica.
‡Please note that prices shown do not include shipping.