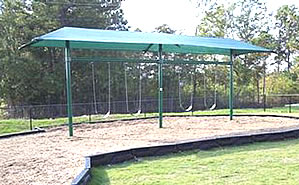 Shaded swing sets are perfect for your playground and other outdoor use areas.  These sun shades protect your children's health from the damage caused by overexposure to the sun's rays, and they provide areas of cool shade while the kids are enjoying the swings. These shades are designed to industrial strength and engineered to withstand winds of 80 mph with fabric installed (the steel structure alone is rated to withstand 150 mph winds). They also offer an easy quick release system for removing the fabric for winter storage. With the sun growing stronger year-round, consider one of these professional shade structures for your protection needs.
Some benefits of shaded swing sets:
• Up to 99% UV screening, up to 92% shade (depending on fabric color)
• 80% water repellence
• Cooler equipment — protects paint & plastic from fading
• Cooler children — minimize heat exhaustion, sunburn, or sunstroke.
• Long service life — 10 year limited warranty
• Wide selection of colored fabric and colored powder coating for the steel components
• Custom sizes available. Phone us at (877) 840-0707 for information.
Features: A fully functioning playground swingset with built-in overhead shades. The best of both worlds! Available with two swings per bay, with a rectangular shade canopy.  (The photo shows the 2-bay model, with 4  swings.)
Sizes: Various sizes available.
Colors available for shade fabric: True Blue, Midnight Blue, Forest Green, Bottle Green, Camel (plain beige), Plain Silver, Terracotta, Red, Yellow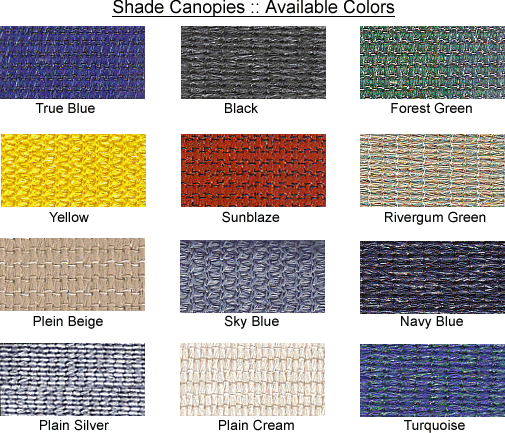 Powder Coating colors for steel components: Red, Orange, Yellow, Blue, Tan, White, Black, Brown, Teal, Green, Fuchsia, Burgundy
Prices:
| | | |
| --- | --- | --- |
| Swing Shade Unit (Does Not Include Swing Seats, Chains, or Connectors) |  Price |  Unit# |
| 1 Bay (2 Swings) | $3,773.00 | TFR-08980XX |
| 2 Bays (4 Swings) | $5,334.00 |  TFR-08980XX |
| 3 Bays (6 Swings) | $6,977.00 |  TFR-08980XX |
| 4 Bays (8 Swings) | $8,618.00 |  TFR-08980XX |
Please note: Custom units can be designed to fit your needs and playground. Also, prices listed are for shade structures with Glide Elbows at each corner, the recommended configuration for seasonal removal of shade fabric. Custom configurations are available.Finally, all prices are estimated and do not include shipping or installation (local only).