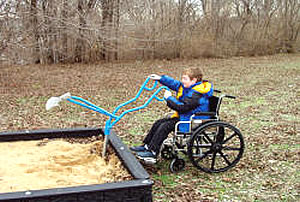 This ADA sand digger lets special needs kids move the sand in your sandbox like it's a construction site. The two levers are made out of steel, and they can be operated to scoop up the sand. The Sand Digger ships via UPS, so you can order online today!
ADA Special Needs Sand Digger weighs 25 lbs.
Price: $785.00 (Unit#361-509H)
If you have any questions about the
ADA Special Needs Sand Diggers, call us TOLL FREE.