Out of This World Play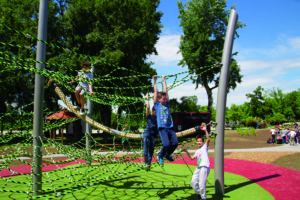 Unlike the Playland Series, the rope course Nebula Series are smaller play units concentrating on providing an array of unique, challenging play experiences for kids.  Ranging from simple for young kids and complex for older kids, there is a Nebula unit for any playground. Manufactured by a leading brand in exciting and unique playground equipment, Dynamo ensures their products will bring out-of-this-world fun while being as safe as possible. The Nebula series are not all that are available, check out our other rope courses, net climbers, rotating climbers, and creative concepts!
For more information about our playground equipment, just phone us today, toll free. We have safety experts standing by to offer information to your about all of our commercial playground equipment.
Nebula Rope Courses​

Nebula Mini I
ID: DX-915
Capacity: 15
Height: 10′ 1″
Price: $19,210

Nebula Mini II
ID: DX-916
Capacity: 24
Height: 10′ 1″
Price: $19,245

Nebula Mini III
ID: DX-917
Capacity: 12
Height: 10′ 1″
Price: $13,225

Nebula Mini IV
ID: DX-918
Capacity: 15
Height: 10′ 1″
Price: $19,935

Nebula Mini IV Twins
ID: DX-928
Capacity: 65
Height: 10′ 1″
Price: $47,910

Nebula Flux
ID: DX-930
Capacity: 42
Height: 14′ 5″
Price: $78,400

Nebula Nano
ID: DX-909
Capacity: 21
Height: 8′ 2″
Price: $29,130

Nebula Twister
ID: DX-932
Capacity: 17
Height: 14′ 5″
Price: $41,265

Nebula Vortex
ID: DX-933
Capacity: 50
Height: 17′ 7″
Price: $119,915
Colors Available
These units are fully customizable to fit the theme of your playground. The available rope colors and paint are shown below, however custom colors can be included for a little extra pricing if your desired color is not shown. If you do not see the color you want, call us.