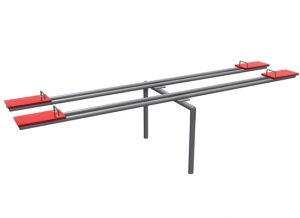 See-Saws :: Classic Design

See-saws and teeter totters, in a classic design. This sturdy see-saw structure comes in 5 different models: choose between 2, 4, 6, 8, or 12 seats. The frames of these see-saws are heavy duty, made from rust-resistant galvanized steel with 2-3/8″ outside diameter pipe supports. Each model of see-saw seating section is 12 feet long and has 1-7/8″ outside diameter rails. The fulcrums are sturdy and cannot be removed. The seats are made of plastic, so kids won't be sitting directly on the metal surface. The seats of these seesaws are available in red, blue, green, or yellow. Also, the grip handles are plated.

Classic See-Saws

Unit

Ground
Space
Use
Zone
Weight
Price
Parts ID
2 seats
2′ x 12′
16′ x 24′
120 lbs.
$780.00
801-212M-H
4 seats
4′ x 12′
16′ x 24′
185 lbs.
$1,365.00
801-212-H
6 seats
8′ x 12′
19.5′ x 24′
310 lbs.
$1,980.00
801-312-H
8 seats
12′ x 12′
24′ x 25′
360 lbs.
$2,595.00
801-412-H
12 seats
20′ x 12′
24′ x 32′
535 lbs.
$3,795.00
801-612-H

---

Spring Teeter Totters
The perfect hybrid of see-saw action and spring technology, these teeter totters are made of high-quality steel tubing.

4-Way Teeter Totter
The latest in spring toy fun! It's a 4-way face-off as your children spring and bounce their friends on this 4-way teeter totter. Color: Available in powder-coated red only.

Dimensions: 8'L x 8'W Use zone: 20'x20′ Weight: 207 lbs.

Price: $1,995.00
Unit# SPR-00014

---

2-Way Teeter Totter :: 8-Foot Long
Take the classic see-saw, add four bouncing springs, and let the fun start! This model avoids the pinching and trapping of traditional saws by using springs instead of a standard fulcrum.

Dimensions: 96″L x 12″W Use zone: 13′ x 20′ Weight: 102 lbs.
Price: $967.00, Unit ID# SPR-00012

---

2-Way Teeter Totter :: 6 Foot Model

This 6′ spring teeter totter is best for younger children. It has 1 spring, letting smaller children rock back and forth with the same action as a spring animal toy. There are hand grips and footrests, too.

Recommended ages: 2 – 5 Dimensions: 72″ long x 24″ wide
Use zone: 14′ x 18′ Weight: 131 lbs.
Manufacturer: SportsPlay, Inc.
Price: $1.125.00 Unit ID# 361-505

Curious about the See-Saws? Call us TOLL FREE.
See-Saws Construction and Installation
See-saws and teeter totters can be installed by our company in the MD – DC -VA area. Just phone us toll free and let us know where your play area is located, and we can give you an estimate.