Play Houses
Play houses add spaces where imaginations can take control. Let children build their own adventures in a colorfully-constructed Play House. Your children can be fire-fighters, part of the postal service, veterinarians, and more! The Play House includes a HDPE roof and HDPE plastic accents. They also will give children some shade while on the playground.
Accessories for your Trike Path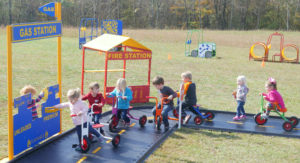 Playhouses are also a Trike Path Accessory to build a city around your path
Unit Model and ID
Price
Post Office

IP-7012
$1,825
Farmer's Market

IP-7014
$1,825
Fire Station

IP-7016
$1,825
Animal Hospital

IP-7018
$1,825
Gas Station

IP-5043
$1,175
For more information please call our offices at (877) 840-0707 for consultation and ordering.