Creativity leads to Excellence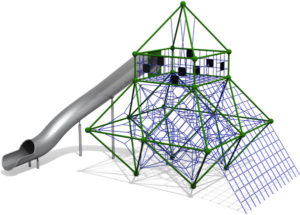 This section highlights creativity. At Dynamo, imaginations are always running in overdrive and we never stay inside the box. Whether it is a unique custom project, or the next production item, we have plenty of ideas for you. These units are centralized around the idea of letting the imagination run wild. Some are combinations of other Dynamo products, such as a net climber with a slide on top, or an entire modular unit with Dynamo ropes. Be sure to check out our other rope courses, net climbers, and rotating climbers!
For more information about our playground equipment, just phone us today, toll free. We have safety experts standing by to offer information to your about all of our commercial playground equipment.
Creative Concepts
Asteroid
ID: DX-902
Capacity: 34
Height: 11′ 6″
Price: $58,235
Igloo Net Climber
ID: DX-1000
Capacity: 25
Height: 8′ 3″
Price: $27,740
Igloo Type 1
ID: DX-1000-1
Capacity: 16
Height: 9′ 10″
Price: $28,810
Igloo Combo 1
ID: DX-1000-2
Capacity: 40
Height: 10′ 2″
Price: $49,510
Igloo Combo 2
ID: DX-1000-3
Capacity: 48
Height: 11′ 2″
Price: $60,115
Igloo Combo 4
ID: DX-1000-4
Capacity: 25
Height: 9′ 10″
Price: $37,065
Colors Available
These units are fully customizable to fit the theme of your playground. The available rope colors and paint are shown below, however custom colors can be included for a little extra pricing if your desired color is not shown. If you do not see the color you want, please phone us for more color options.