These Octagon and  Hexagon shade structures are perfect for your playground and other outdoor use areas.  These sun shades protect your children's health from the damage caused by overexposure to the sun's rays, and they provide areas of cool shade. Use these sturdy shade structures to keep your little ones cool and shade them from the sun. These shades are designed to industrial strength and engineered to withstand winds of 80 mph with fabric installed (the steel structure alone is rated to withstand 150 mph winds). They also offer an easy quick release system for removing the fabric for winter storage. With the sun growing stronger year-round, consider one of these professional shade structures for your protection needs.
Benefits of Octagon and Hexagon Shade Structures
Some benefits of these shades include:
• Shade coverage of up to 99% UV screening, up to 92% shade (depends on color of fabric)
• Water repellence level of 80%
• Equipment that's cooler, longer — protects fading of paint & plastic
• Children that stay cooler, for longer — less heat exhaustion, sunburn, and sunstroke.
• Service life for years — each shade comes with a 10 year limited warranty
• Wide selection of colored fabric and colored powder coating (for steel components)
• Custom sizes available. For more information, phone us at (877) 840-0707.
Colors available for shade fabric: True Blue, Midnight Blue, Forest Green, Bottle Green, Camel (plain beige), Plain Silver, Navy, Red, Yellow

Powder Coating colors for steel components: Red, Orange, Yellow, Blue, Tan, White, Black, Brown, Teal, Green, Purple, Burgundy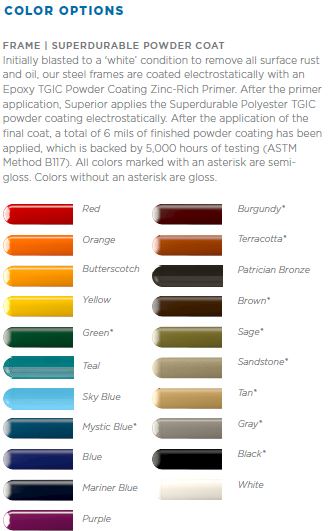 | | | | |
| --- | --- | --- | --- |
| | Price With Standard Canopy System | Price With Quick-Release Canopy | |
| 20' | $4,552.00 | $5,268.00 | Get a Quote Now! |
| 24' | $6,088.00 | $6,788.00 | Get a Quote Now! |
| 26' | $6,413.00 | | Get a Quote Now! |
| 28' | $7,535.00 | $8,118.00 | Get a Quote Now! |
| 30' | $7,936.00 | $8,514.00 | Get a Quote Now! |
| 34' | $9,852.00 | $10,538.00 | Get a Quote Now! |
| 38' | $10,608.00 | | Get a Quote Now! |
| 40' | $11,204.00 | $11,949.00 | Get a Quote Now! |