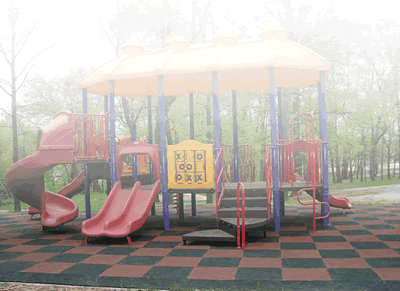 Quality
Our rubber tile playground surfacing offers highly resistant fall protection for your playground structures.
Colors Available
Solid colors include black, red, green, or blue. Black rubber playground tiles with different color fleck options are also available.
Dimensions
Each rubber playground tile measures 2 feet long by 2 feet wide. They're 2-1/4″ thick.
Drainage
The rubber playground tiles are designed to permit water to flow through them, so water does not puddle on the surface. So, the play area can be used soon after rainy weather moves on.
Installation
Rubber tiles must be installed over blacktop, concrete, or a layer of compacted, crushed gravel. They cannot be installed directly over grass or dirt.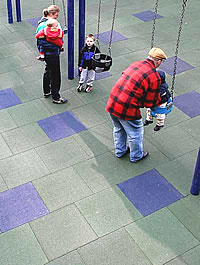 Services
We can send rubber tile playground surfacing to you anywhere in the U.S. Unfortunately, we can only install the rubber tiles in the Maryland – Washington, DC – Virginia area.
Pricing
Prices start at $21.99 per tile (adhesive sold separately). For more information on rubber tile surfacing, please phone us at 1-877-840-0707 TOLL FREE.