These cantilevered shade structures are perfect for your playground and other outdoor use areas. Cantilevered models have the advantage of stretching over an entire area, but the posts are located on one side, placed well out of reach. These sun shades protect your children's health from the damage caused by overexposure to the sun's rays, and they provide areas of cool shade. Use these sturdy cantilevered shade structures to keep your little ones cool and shade them from the sun. They're designed to industrial strength and engineered to withstand winds of 80 mph with fabric installed (the steel structure alone is rated to withstand 150 mph winds). They also offer an easy quick release system for removing the fabric for winter storage. With the sun growing stronger year-round, consider one of these professional shade structures for your protection needs.
Cantilevered Shade Structure :: Dual Canopy Design with Single Post. Built by our company in the summer of 2013.
Some benefits of these cantilevered shade structures include:
• Up to 99% UV screening, up to 92% shade (depending on fabric color)
• 80% water repellence
• Cooler equipment — protects paint & plastic from fading
• Cooler children — minimize heat exhaustion, sunburn, or sunstroke.
• Long service life — 10 year limited warranty
• Wide selection of colored fabric and colored powder coating for the steel components
• Custom sizes available. Phone us at (877) 840-0707 for information.
Cantilever Shade Structure :: Single Post Design. Built by our company in the summer of 2014, Bethesda, Maryland.
Cantilevered Shade Structure :: Rectangular Design with 4 Posts
Powder Coating colors for steel components: Red, Orange, Yellow, Blue, Tan, White, Black, Brown, Teal, Green, Purple, Burgundy and more!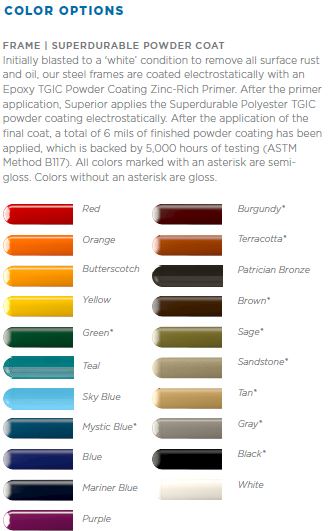 Fabric Colors: Beige, Black, Red, White, Purple, True Blue, and more!

Sizes: Shade canopies sizes start at 10′ x 10′ and go up to as large as you need them. Our cantilevered shades can cover entire parking lots, if needed. Custom units can be designed to fit your needs and playground. Phone us today toll free for more information.

Manufacturer: Our shades are manufactured by Superior Shade, Inc., one of the top shade producers in the business.
Pricing: Generally, the cantilevered design adds about 30% to the 4-post version of the square and rectangular shade structures seen on our website.  This is because larger quantities of steel are needed for the posts that support the canopy from only one side. However, this pricing is just an estimation. Please phone us toll free at (877) 840-0707 to obtain an official price quote.