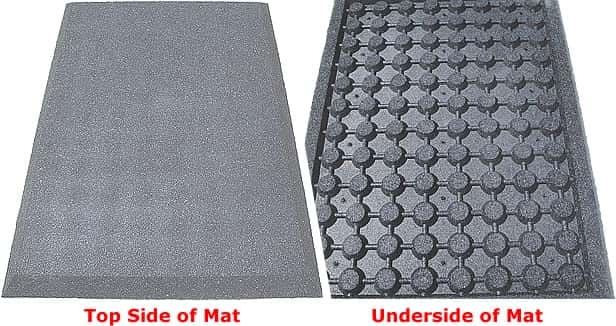 Price: $132.00 each (Unit# SWG-05)
When you need to give children extra protection on your playground, trust our bevelled swing safety mats. They're recommended for use under swingsets, at the end of slides, and on other high-impact areas. Each mat is 100% rubber and measures 40″ long by 30″ x 2″ thick. The edges are bevelled, to minimize tripping and contact points. When playground safety is your top priority, you can rely on our swingset safety mats. They're also good for preventing kids' feet from eroding resilient surfacing while using the swings. The mats weigh 40 lbs. each. They are certified for playground use, for a fall from 4′.
Safety advisory: Our safety swingmats are only for use when placed over an adequate layer of resilient surfacing, like woodchips or wood fiber carpeting. They do not meet playground safety requirements if they are merely placed over hard surfacing like stone or blacktop.
If you have any questions about the Playground Safety Mats or any of our other products, just phone us at 877-840-0707