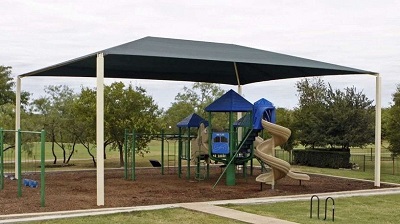 Welcome to PlaygroundEquipmentUSA.com, a full-service playground equipment and services company located in Gaithersburg, Maryland. Our parent company is MD Materials. We are currently celebrating more than 35 years of operations, having started business in 1986.
At Playground Equipment USA, we sell playground equipment, parts, site amenities, playground borders, shade structures and much more to both commercial organizations throughout the United States. We install playground equipment and shade structures throughout Washington DC and the surrounding areas of Maryland and Virginia.  Our equipment manufacturers include SportsPlay, Inc. and Childforms. We also have several other sites. For plastic borders and playground timbers, check out plasticborders.com. If you are interested in a shade structure for you school, business or organization, visit shadestructuresusa.com or playgroundshades.com. Sandbox covers are another item that we specialize in. For custom made covers, please visit sandboxcoversusa.com.
Many of our products ship via UPS and can be ordered on-line. If you have a certain product in mind but don't see it on our website, please phone us toll free at 877-840-0707, and we can probably help you find that item.
LOCAL PLAYGROUND AND SHADE INSTALLATION IN MARYLAND, VIRGINIA AND WASHINGTON DC
Playground Equipment and Parts :: Maryland MaterialsIn the MD – DC – VA area, we service the playgrounds of more than 400 schools, daycares, and religious organizations. Our services include building new play structures; playground shades, performing playground safety inspections; removing play structures; and installing playground surfacing and materials, including woodchips, artificial surfacing, and sand. Our staff includes a playground specialists and certified playground inspectors.. Please contact us at 877-840-0707 for references from our satisfied customers. To find out more about our local services, visit our other website capital area playground services.
SHIPPING POLICY
Liability
Our company uses third party freight companies for most orders. As such, the freight company is liable for damage or loss that may occur to merchandise during equipment, not our company. However, we will take all reasonable steps to resolve any problems.
Delivery
Items that ship via motor freight are brought to your loading dock or door by a large delivery vehicle, usually a tractor-trailer. The customer is responsible for making sure that your premises can accommodate delivery by a vehicle of this size and providing our company with information to the contrary at least 48 hours' ahead of delivery.One option is to unload the vehicle by hand, by cutting the plastic wrap on the freight pallet(s). Please note that most drivers will let you do this but are not obliged to. Also, they are not obliged to help with the unloading; that is the customer's responsibility.
Unless you specifically request it, the vehicle does not have a motorized lift gate (available for $85. additional cost, with at least 48 hours' notice). The driver will convey the pallets and/or merchandise to the rear of the truck. From there, it is the customer's responsibility for unloading the vehicle. If you need the merchandise brought inside your location, this is known as "inside delivery" and must be scheduled ahead of time, for an additional cost.
Delivery Via Vehicle With Motorized Lift Gate
If you request a lift gate on the delivery vehicle, the vehicle driver is only responsible for lowering the merchandise down to the ground. From there, it is the customer's responsibility to move and/or store the merchandise. If you need the merchandise brought inside your location, this is known as "inside delivery" and must be scheduled ahead of time, for an additional cost.
Receiving Delivery
It is standard procedure for the delivery driver to obtain the receiving customer's signature stating that the order is complete. When accepting your order, please check to make sure that the numbers of items listed on the paperwork matches what you received.
If you don't receive every item and/or you see damage, you should write this on the paperwork and tell the driver. If the customer doesn't record a short count or visible damage, then the customer is liable for any missing or damaged items. Our company is not responsible for hidden damage (that which is not visible). If you accept delivery and later discover hidden damage, then it must be reported to our company within 72 hours, and we will need to receive digital images of the damage. We will take all reasonable steps to resolve the situation for you, but ultimately the manufacturer and/or the delivery freight company is responsible for any hidden damage.
RETURN POLICY
Orders that are placed and then cancelled after 24 hours, but before the order ships, will be assessed a cancellation fee. Certain items, such as replacement slides, may sustain superficial surface markings or scratches during shipment, and our company will only grant refunds or exchanges in the event of serious damage to the item. Note: Maryland Materials does not pay for return shipping. We also charge a re-stock fee of 20% of the value of the items returned (this fee is lower than our competitors' rates). We do not accept returns or exchanges on equipment that has been used by the customer.
PRIVACY POLICY
Our company does not share customers' credit card information with any other companies. Nor do we market or sell any of our customers' information to other companies.
NOTICE TO CUSTOMERS
Prices listed on this website are subject to change without prior notice. Thank you for your interest in our products and services. To contact us, you can phone toll free 877-840-0707 from outside the MD – DC – VA area, or 301-840-0707 locally. Or, send us an e-mail at "mdmail@mdmaterials.com".