These tennis nets, posts, and reels bring your court the official touch it needs. They meet all U.S. Lawn Tennis Association (USLTA) standards, and they all ship by UPS. These tennis nets, posts, and reels will bring your court up to the standard that your future Andy Roddicks and Venus Williamses need to reach the highest levels of the game. All three items are manufactured by SportsPlay, Inc., a leading playground and sports equipment manufacturer.
Tennis Post
These official tennis posts are made from galvanized steel. Their diameter is 3-1/2″. They have grooved aluminium caps, to position the net cable. Both the net reel and net fittings are included. Ships via UPS. Order today!
Weight (per pair): 82 lbs.
Price (per pair):
• Galvanized posts $517.00†, Unit# 571-106
• Powder-coated posts $664.00†, Unit# 571-106C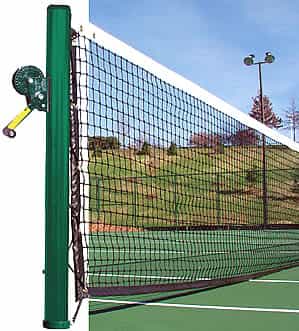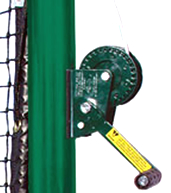 Tennis Net Reel
This tennis net reel adjusts your tennis net to the perfect height for athletic action on your court. Adjust the tautness or slackness of the steel cable in the net to the height you want. Go for the regulation 42″ net height, or develop better accuracy in practice by raising the net slightly higher. No matter what height you want, this net reel gives it to you. Ships via UPS. Order online today!
Weight: 6 lbs. Price: $101.00, Unit#: 572-917
†Prices listed do not include shipping.
If you have any questions about the tennis posts, nets, or reels,
just call us TOLL FREE at 877-840-0707