Pickleball, often described as a combination of tennis, Ping-Pong and badminton, grew nearly 40 percent between 2019 and 2021, making it America's fastest-growing sport. A top-of-the-line pickleball court requires durable and versatile posts, which the Guardian pickleball post line can provide. The Guardian post is manufactured from 3.5″ OD heavy duty 1/4″ thick high tensile aluminum. Its straight and true design will stand up to high usage courts while allowing the net to maintain proper game tension without bowing. Users will appreciate the clean look and safety of the internal worm gear net tensioner winch.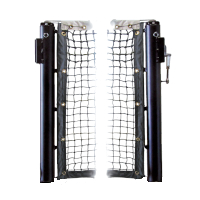 Features:
Vinyl coated cable
Black powdercoat finish
Packages include heavy-duty double top six net
3.5″ OD schedule 40 aluminum posts
Safe and secure Internal worm gear winch will not backdrive
Adjustable post collar
Available with hinged lid sockets or PVC sleeves
† Price excludes shipping and handling.
Construction and Installation
In the Washington, D.C. and Baltimore metropolitan area, we furnish and install playground equipment. We can also move existing equipment, and demolish obsolete, dangerous playgrounds. Other related services include grading, drainage, resilient surfacing, borders, and retaining walls. Contact us today!