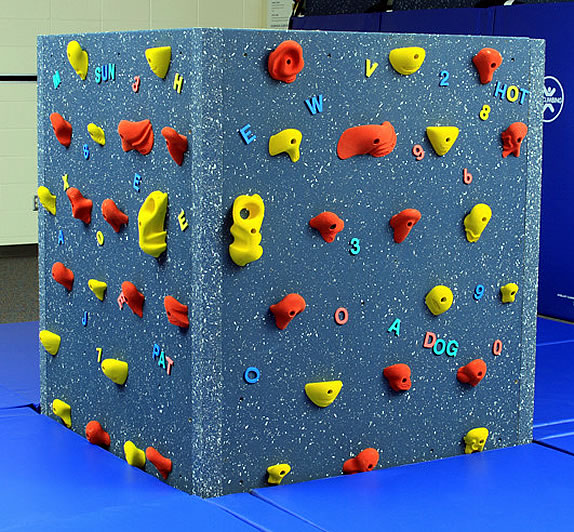 Your kids will rock around the block with our 3-D WeeKids Tyke Tower. You want motor skills? Climbing fun? Endless combinations of hand and foot development? There's even magnets to stick on the walls, wherever you like.

Panels
The panel on each side of the cube is 4 feet wide and 5 feet high. Each panel has 20 hand-holds. Two surfaces of panel are available: our standard models and our blue Magna models.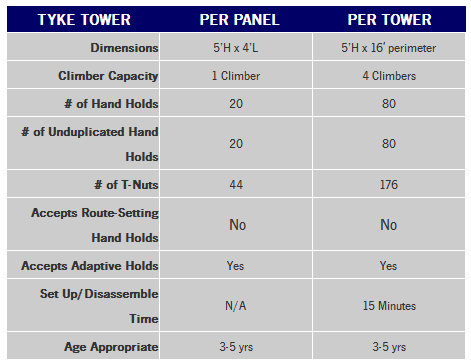 Installation
The Tyke Tower package includes climbing panels, hand holds and hardware, a Discovery Plate and educational letter and number magnets. Installation only takes about 15 minutes, believe it or not. Some handyman and/or construction experience will help, but it's not necessary.
Mats
Protective matting is essential for using the Tyke Tower. We sell protective matting designed to the exact thickness you need. Please phone us for more information.
Use zone: 18′ x 18′ Dimensions: 5′ high x 4′ wide per side (16′ around)
Manufacturer:Everlast Climbing
Price: $4,890 with standard walls, $5,347 with blue Magna walls.
The panels are easy to assemble. Estimated time to put the Tyke Tower together is 15 minutes!

Our hand-holds are available in many shapes and colors.

The Tyke Tower has a capacity of 4 children at one time (one per side).
---
Got questions about the Indoor Wall-Mounted Climbing Walls?
Just phone us today TOLL FREE!