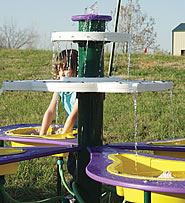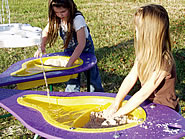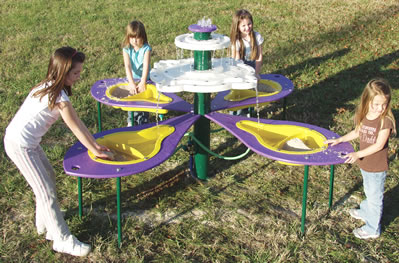 This exciting fountain cascades down two inner tiers into 4 individual play areas. Each play station comes complete with a bowl that's split between sand and water. Each also has its own overflow drain. Just attach the Fountain to a water source, and the fun starts!
• Easy to install
• Easy to clean
• Easy to supervise
• 4 separate play stations
• Accessible for special needs children. ADA compatible.

Unit Number: 902-297
Manufacturer: SportsPlay
Size: 8'L x 8'W x 4'H
Use Zone: 20′ x 20′
Weight: 225 lbs
Price: $3,355.00† (Add $79 for model with drains on the bowls.)

† Price excludes shipping and handling.
In the Washington, D.C. and Baltimore metropolitan area, we furnish and install playground equipment. We can also move existing equipment, and demolish obsolete, dangerous playgrounds. Other related services include grading, drainage, resilient surfacing, borders, and retaining walls.