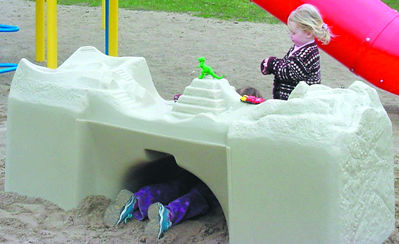 This Adventure Table is a fun, all-in play unit with 100 different ways to use. It encourages kids' imaginative and tactile play. And it's just one of the range of commercial playground structures and equipment that we offer to your school, daycare, or church commercial playground, from leading manufacturers.
Adventure on your playground! This one-of-a-kind-unit integrates interactive and manipulative play. A whole landscape of play awaits children with each new area crafted into this unique item. It's a perfect play area for their dolls, dinosaurs, and finger toys like skate boards and bikes. Manufacturer: SII.
Colors available: tan granite or gray granite only.
Adventure Table (Part# ADV-1) $1,236.00
If you have any questions about the Adventure Table, phone us TOLL FREE!