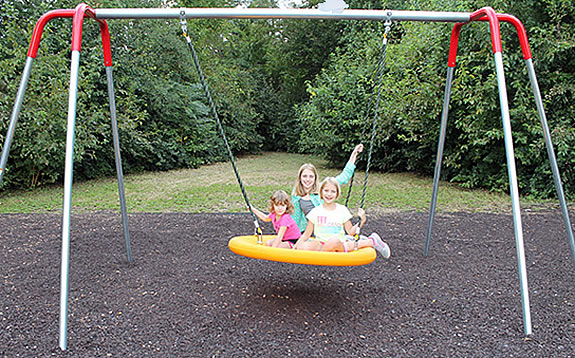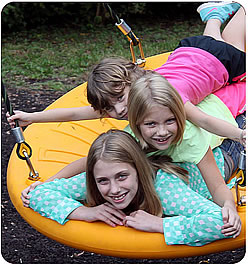 Our new Bird's Nest Swing Set adds group fun to your playground. Up until now, swing sets have been an individual play event: each child sits in their own seat, separated from other kids swinging and from other people playing on the playground. Suddenly, the Bird's Nest turns the swing set into a group activity, allowing up to 4 kids on the seat together.
The swing seat is a single disc of solid plastic.  It connects to the swing set structure with 2 chains. The motion of the swing seat is to-fro (back and forth). Please note that this swing set does not have a 360-degree rotation, like a tire swing does.
The tripod design of the swing set makes sure that this structure stays exactly in place. With the outside third "legs," the structure does not move side to side (as it can with a standard bipod design). The "modern" design, which incorporates yokes at each end of the structure, minimizes shaking and distributes weight evenly throughout the structure.
Ages: 5 to 12 years
Capacity: 4 children
Dimensions: 21 feet x 10-1/2 feet
Use Zone: 32 feet x 31 feet
Total Weight: 433 lbs.
Frame Colors Available: Blue, purple, white, red, tan, green, silver, black, orange, yellow, brown 
Unit#: 581-370
Price: $3,999.00 (+ freight) Seat available separately $2,599.00
Want the view from the Bird's Nest?
Call us TOLL FREE at 877-840-0707