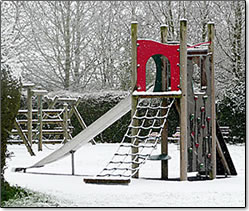 Winter time brings cold weather to many parts of the U.S. On outdoor playgrounds, the lower temperatures, wind, rain, and snow pose their own problems for playground safety. Here's a list of safety issues to keep in mind:
In cooler weather, kids sometimes wear jackets and coats that have drawstrings. These can become entanglement hazards when kids are on playground equipment. Don't let kids use playground equipment if their clothes have drawstrings!
Rain can wash away wood chips, so monitor the level of playground surfacing.
Water and ice can create slippery conditions. Don't be stingy when you spread sand and/or salt on walk areas.
Leaves can be slippery, too, so regularly clear them from walkways and play structures.
Branches are more likely to fall in winter time, so remove foreign objects from your playground as soon as they appear.
Freezing temperatures in combination with poor drainage can reduce the resiliency of your playground surfacing. Monitor this closely.
Over time, the combination of freezing temperatures and sunshine can crack plastic, so regularly inspect plastic components and swing seats.
Water creates rust, so periodically inspect metal components and equipment.
Make sure that kids outside are dressed appropriately for the weather.
If you need a thorough playground inspection, contact a Certified Playground Safety Inspector. Our company works with CPSIs all over the country, so phone us today for a referral at (877) 840-0707.
Our company installs playground shade structures and other playground equipment in the Maryland – Virginia – Washington, DC area. For more information on our playground services, phone us at (877) 840-0707.