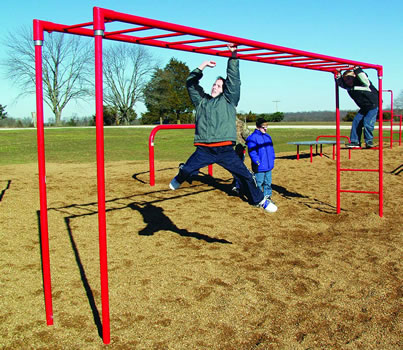 The classic playground bars
Maybe you remember them from childhood, or maybe you just recognize a good work-out when you see one. These classic horizontal ladders are available in three different models: Standard, Inclined, and Junior (see details below). The rungs all measure 1″ outside diameter. Made from rock-solid USA steel. Gets yours today!
Model

Measurements
Weight
Price
Part ID#
Standard Ladder
16'L x 80″H x 2'W
Rails: 2-3/8″ OD
155 lbs.
$1,629.00 painted
$1,265.00 unpainted
501-416
Inclined Ladder
13'L x 80″H x 2'W
Rails: 2-3/8″ OD
150 lbs.
$1,090.00 painted
$847.00 unpainted
511-109
Junior Ladder
10'L x 6'H x 2'W
Rails: 1-7/8″ OD
110 lbs.
$1,078.00 painted
$847.00 unpainted
501-410
---
Call us with questions about the Horizontal Ladder TOLL FREE.
Construction and Installation
In the Washington, D.C. and Baltimore metropolitan area, Maryland Materials furnishes and installs playground equipment. We can also move existing equipment, and demolish obsolete, dangerous playgrounds. Other related services include grading, drainage, resilient surfacing, borders, and retaining walls.