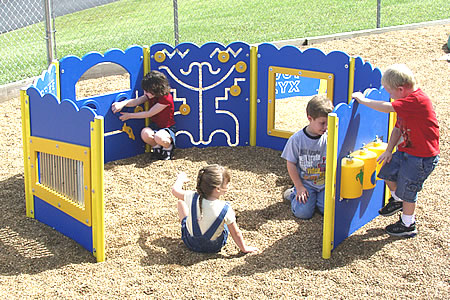 The Kiddie Korral is a loop of pure fun. It has 7 different activity panels that will keep your kids busy for hours, including the following:

• Spinner Maze Panel
• Mirror Panel
• Dual Driving Panel
• Music Panel
• Dino Spin Panel
• Alphabet Panel
• Bubble Panel

The Kiddie Korral is made from low density polyethylene, a tough, hard plastic that does not break or splinter. The posts are made from galvanized steel. It's best for kids ages 2 to 5 years. Its dimensions are 10 feet wide by 10 across x 3.5 feet high. Weight: 611 lbs.

Price: $5,816.00 (Unit# 902-880)
If you have any questions about the Kiddie Korral, just phone us TOLL FREE.