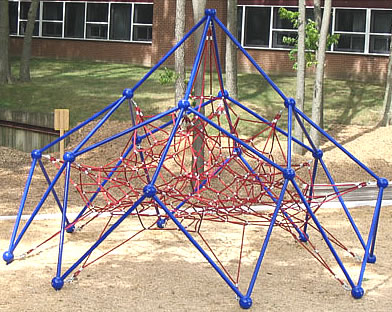 The Dynamo Meteor Net Beehive will delight all the drones on your commercial playground. It's a European-design net climbing structure made from a heavy duty steel frame and steel-loaded polyamide cables with UV guard. This model is perfect for children 5 to 12 years old. This 13-foot high unit helps bring movement, balance, exercise and fun back into your playground. The Meteor Net is manufactured by Dynamo Playgrounds, one of the most exciting names in playground equipment design. Dynamo uses the highest steel content in the industry to ensure long life of the games and maximum safety for the children. The frame and ropes are available in a variety of different colors, at no extra charge (see below).
Ages:
5 to 12 years
Capacity:
42 children
Size:
Length: 19'8″
Width: 19'8″
Height: 13'11"
Use Zone:
Length: 31'8″
Width: 31'8″
Fall Height:
8 feet
Total Weight:
2,028 lbs.
Frame Colors
Available:
Blue, green, red, tan, brown,
black, yellow, white
Rope Colors
Available:
Blue, gold, green, red, brown, black
Unit#:
DX-804
Price:
$32,605.00

Color selections are available at no extra charge. Other colors
may be special ordered for additional cost.
Interested in the Meteor Net Beehive Structure?
Call us TOLL FREE at 877-840-0707