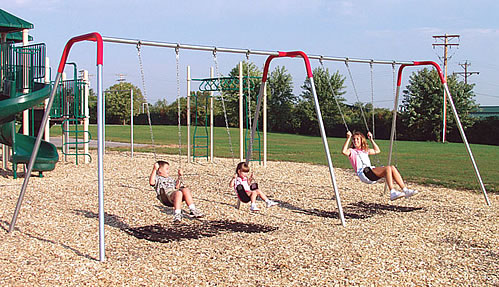 The classic playground swingset, with a streamlined, modern look.  Certified by the International Play Equipment Manufacturers Association (IPEMA).  Available with an 8-foot-high bipod structure, or a tripod structure that's 8 feet or 10 feet high.  Choose between 8 seats, 6 seats, 4 seats, or 2 seats (the photo above shows a 4-seat model). Various colors available!
Included: All swingsets come with galvanized steel pipes, self lubricating swing hangers, 4/0 galvanized welded chain, and cut-proof belt seats.
Manufacturer: SportsPlay. You can substitute stronger seats, chains, and hangers, as you like.
Legs: 2-3/8″      Top rail: 2-3/8″.
Modern Swingsets :: Bipod Model, 8-Foot High

Description
Use Zone
Weight
Price
Parts ID
2 seats
32′ x 27′
208 lbs.
$1,342.00
581-238
4 seats
32′ x 38′
306 lbs.
$2,411.00
581-438
6 seats
32′ x 49′
400 lbs.
$3,123.00
581-638
8 seats
32′ x 60′
575 lbs.
$4,038.00
581-838
Modern Swingsets :: Tripod Model (8 Feet or 10 Feet High)

8-Foot High

Description
Use Zone
Weight
Price
Parts ID
2 seats
32′ x 33′
300 lbs.
$1,595.00
581-230-8
4 seats
32′ x 44′
430 lbs.
$2,521.00
581-430-8
6 seats
32′ x 55′
555 lbs.
$3,564.00
581-630-8
8 seats
32′ x 66′
685 lbs.
$4,422.00
581-830-8

10-Foot High

Description
Use Zone
Weight
Price
Parts ID
2 seats
40′ x 31′
320 lbs.
$1,813.00
581-230
4 seats
40′ x 42′
460 lbs.
$2,712.00
581-430
6 seats
40′ x 53′
570 lbs.
$3,749.00
581-630
8 seats
40′ x 64′
720 lbs.
$4,513.00
581-830
Interested in the Modern Swingsets? Call us TOLL FREE at 877-840-0707