This parallel climber lets kids climb 100 different ways — up, down, over, under, and whatever else they come up with! The climbers come in two different heights: 7-1/2 feet, or 5-1/2 feet. They can be combined in any configuration. Choose your own colors on the posts and panels.

Climber Model

Height

Item #

Price

3 Panel Climbing Wall

7.5′

CLM-00001

$1,199.00

3 Panel Add-A-Wall

7.5′

CLM-00003

$1,339.00

2 Panel Climbing Wall

5.5′

CLM-00002

$1,339.00

2 Panel Add-A-Wall

5.5′

CLM-00004

$1,081.00
Heavy Duty Outdoor Climber (5″ Outside Diameter Posts)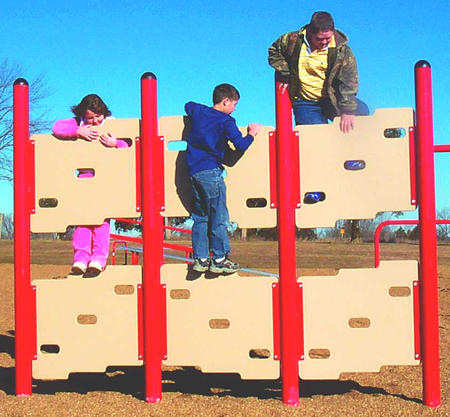 This parallel climber combines four sturdy 5″ steel posts and six tough plastic panels to give your kids a place to climb any time. This parallel climbing wall is the top choice for fun! Choose your own colors on the posts and panels. Use zone: 13′ x 23′.

Heavy Duty Parallel Climber weighs 550 lbs.
Price: $3,575.00 Unit# 902-268
---
Puzzled by the Parallel Climbers? Call us TOLL FREE.
Construction and Installation
In the Washington, D.C. and Baltimore metropolitan area, Maryland Materials furnishes and installs playground equipment. We can also move existing equipment, and demolish obsolete, dangerous playgrounds. Other related services include grading, drainage, resilient surfacing, borders, and retaining walls.