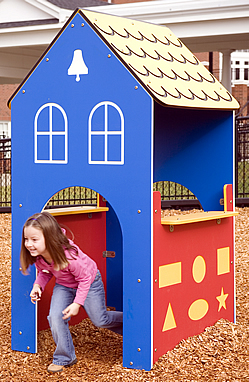 This classic one-room schoolhouse is perfect for small children and infants. There are openings on both sides of it, so kids can walk on through, or they can stay and linger at either of the store counter panels. There are also educational panels under the two store countertops. The funhouse is made from low density polyethylene, a tough, hard plastic that does not break or splinter and resists the elements. The structure's dimensions are 3'4″ long x 3′ wide x 6'6″ high. Use zone: 15'5″ x 15′. Recommended ages: 2 to 6 years.
School House weighs 220 lbs.
Price: $2,009.00 (Part# PAN-00001)
Interested in the School House? Call us today to speak with a playground specialist!