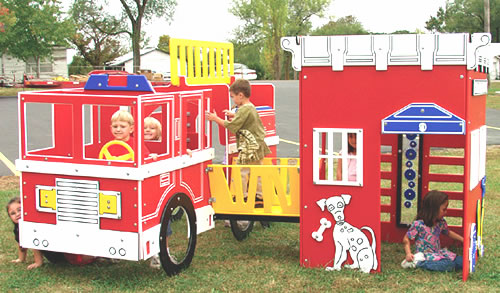 Sound the alarms and get the engine started! The Tot Town Fire Engine House Combo is a versatile mini-structure made of low density polyethylene, a tough, hard plastic that does not break or splinter. The structure's dimensions are 10′ long x 10′ wide x 6′ high. It's recommended for ages 2 to 5. The firehouse and the engine are also sold separately (see prices below).
Fire Engine and House Combo weighs 950 lbs.
Price: $14,880.00 (Unit# 902-799)
Fire Engine (without House) weighs 550 lbs.
Dimensions: 10′ L x 4′ W x 4'6″ H Use zone: 16′ x 10′
Price: $8,268.00 (Unit# 902-797E)
Fire House (without Engine) weighs 450 lbs.
Dimensions: 4′ L x 4′ W x 6′ H Use zone: 10′ x 10′
Price: $6,612.00 (Unit# 902-797)
Got questions about the Fire Engine or Fire House?
Call Maryland Materials TOLL FREE.
Construction and Installation
In the Washington, D.C. and Baltimore metropolitan area, Maryland Materials furnishes and installs playground equipment. We can also move existing equipment, and demolish obsolete, dangerous playgrounds. Other related services include grading, drainage, resilient surfacing, borders, and retaining walls.