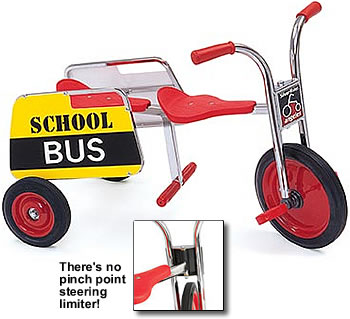 Get on the bus with our School Bus Tricycle! The yellow limousine stops here, guided by 1 driver and with room for 1 additional passenger.
Solid rubber tires
Spokeless steel wheels
Recessed hubs on back wheels
One-piece welded crank
No pinch points with steering limiter
No exposed hardware on pedals
Durable chrome plating
Frame-mounted seat with back support
Long-lasting, self-lubricating nylon bearings
Mr. Good Pedal lifetime service available
Ships fully assembled
5-year guarantee
SilverRider® School Bus
AFB1300SR SRP $369.51
(Recommended for Ages 3-8)
Front Seat 16″H, Rear Seat 15″H, Handlebars 25 1/2″H, 34 lbs.
Passenger handrail and footrest
Bus signs included
Patented design
Ships fully assembled
5-year guarantee