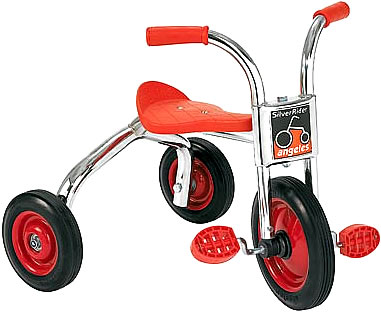 The playground classic is back! 1 kid, 2 feet, 3 wheels … the numbers all add up to rip-roaring fun on our Classic Rider and Silver Rider trikes from Angeles, the leading name in rapid child transport. Three sizes available: 10 inch, 12 inch, and 14 inch models.
Ships fully assembled
5-year guarantee
Replacement parts available
Lifetime service available
Comfort back support
Heavy-duty rubber handle-grip
Durable chrome plating and welding steel frame
Recessed hub design
Long-lasting, self-lubricating nylon bearings
One-piece welded crank, no exposed hardware on pedals
Solid rubber tires on spokeless steel wheels
10″ Trike
AFB0100SR
Price: $219.37
Recommended for Ages 3-4
Seat: 13″H. Handlebars: 21-1/2″H
Weight: 24 lbs.

12″ Trike
AFB0200SR
Price: $230.92
Recommended for Ages 3-5
Seat: 15-3/4″H. Handlebars: 25-1/2″H

Weight: 26 lbs.

14″ Trike
AFB0300SR
Price: $236.70
Recommended for Ages 4-8
Seat: 16″H. Handlebars: 26-1/2″H
Weight: 27 lbs.