Spring riders are now available with teeter totter design. These spring units are the perfect hybrid of see-saw action and spring technology. Our spring teeter totters are made of high-quality steel tubing. Available in powder-coated red. Recommended ages: 2 – 12. These teeter totters fix into the ground using concrete. Manufactured by the top names in the playground business, these units all ship via motor freight. You can rely on our company to put a bounce in your commercial or residential playground.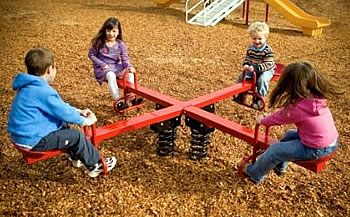 4-Way Teeter Totter
The latest in spring toy fun! It's a 4-way face-off as your children spring and bounce their friends on this 4-way teeter totter. The springs are strong, so if a child gets off the teeter totter, the others will stay at more or less the same height (unlike a standard see-saw).
Dimensions: 8'Lx8'W Use zone: 20'x20′ Weight: 207 lbs.
Price: $2,450.00
---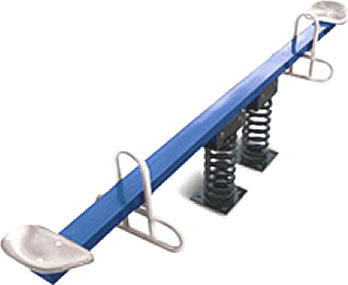 2-Way Teeter Totter
Take the classic see-saw, add four bouncing springs, and let the fun start! This model avoids the pinching and trapping of traditional saws by using springs instead of a standard fulcrum. Thanks to the strong springs, if one child gets off, there will be some bounce action, but the other child will stay at more or less the same height.
Dimensions: 96″L x 12″W Use zone: 13′ x 20′ Weight: 102 lbs.
Price: $1,075.00
---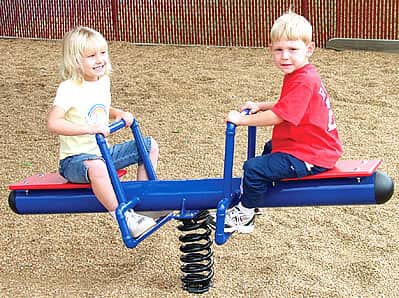 2-Way Teeter Totter :: 6 Foot Model
This 6′ spring teeter totter is designed for younger children. It has 1 spring, letting smaller children rock back and forth with the same action as a spring animal toy. There are handgrips and footrests, too.
Recommended ages: 2 – 5. Dimensions: 72″ long x 24″ wide. Use zone: 14′ x 18′. Weight: 131 lbs.
Price: $797.00