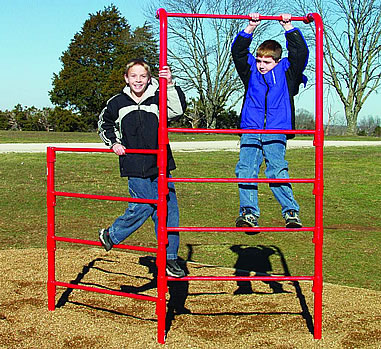 Climbing, climbing, and more climbing.
Kids will find 101 uses for this stand-alone bar unit. Its two sections measure 3′ across, and the taller section is 7′ high. The bars measure 1-3/8″ outside diameter. Ground space: 3′ x 6′.
Stall Bar Fence weighs 100 lbs. (#511-102)
$1,227.00 with painted bars, $954.00 for unpainted metallic bars
---
Stumped by the Stall Bar Fence? Call us TOLL FREE.
Construction and Installation
In the Washington, D.C. and Baltimore metropolitan area, Maryland Materials furnishes and installs playground equipment. We can also move existing equipment, and demolish obsolete, dangerous playgrounds. Other related services include grading, drainage, resilient surfacing, borders, and retaining walls.