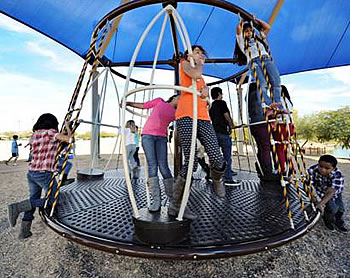 Play equipment … you want it, you got it! Our play equipment is manufactured by the leading names in the play equipment business. We offer a wide range of modular structures, swing sets, climbers, spring toys, shade structures, and more! And we don't just sell play equipment — wherever you are in the continental USA, we can install your play equipment for you. So, there's no relying on untested installers. We get it right every time.

"Modular" play equipment is the standard variety that you see on large school playgrounds and park & rec area. It is based on a design that involves vertical posts and platforms, which components that attach to the components. It's called "modular" play equipment because it can be easily adapted or expanded, depending on your needs. We sell several lines of modular play equipment, and it's fully customizable to your needs. And we sell many other types of play equipment, as you'll see below.
Click here to see our full range of commercial play equipment!