Baby strollers are available here from the leading name in the child transport business, Angeles. The Angeles Bye-Bye Stroller is a sturdy, reliable way for moving groups of small children from one place to another. When you're done using them, these baby strollers fold up for easy storage. They're manufactured in the USA. We deliver the Angeles baby strollers anywhere in the USA, right to your door (partly assembled). To qualify for a bulk purchasing discount, order 3 of more Angeles baby strollers order a fleet of 3 or more and qualify for the Bye-Bye Stroller bulk purchase discount. For Bye-Bye Stroller features, see below.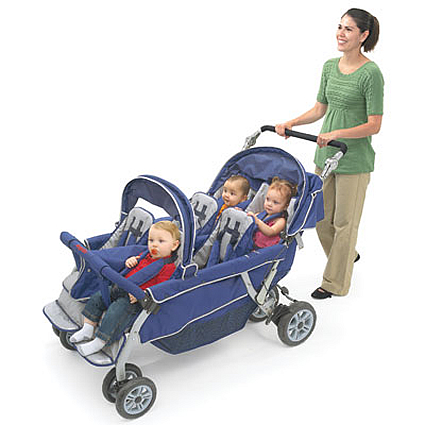 SureStop® Folding Commercial Bye-Bye® Stroller (6 Passengers)
Dimensions: 57″L x 33″W x 40-1/2″H (144.78 cm x 83.82 cm x 102.87 cm)
Weight: 95 lbs.
(43.1 kg)
Model Number: AFB6700
Price: $1,675
Baby Strollers :: Features
The Bye-Bye Strollers have the following great features:
No-roll technology with the comfort-grip brake system
When you need to park the stroller, the pedal brake locks in place, for extra safety
Sturdy tubular steel frame is lightweight, for easy maneuvering
Fabric is fade-resistant, water-repellent, and easy to clean
The seats are comfortable and padded. They recline, too
Child size capacity: up to 40″ tall, and 35 lbs.
Age appropriateness: For ages 6 months and older
Canopies are removable
Storage compartmens for plenty of supplies
Design and manufacture meets ASTM Safety Standard F833-07A
The tires are all-terrain models. Good for any surface.
Baby strollers arrive partly assembled (some assembly is required)
3-year guarantee on all Angeles Baby Strollers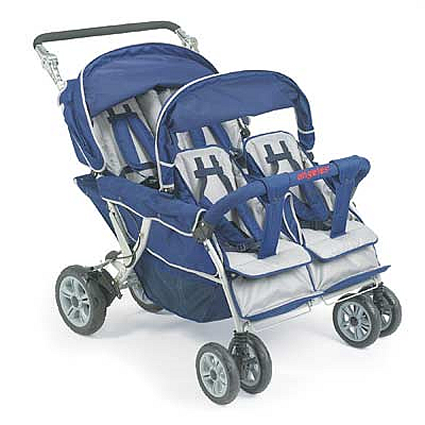 SureStop® Folding Commercial Bye-Bye® Stroller ( 4 Passengers)
Dimensions: 37″L x 33″W x 36″H (93.98 cm x 83.82 cm x 91.44 cm)
Weight: 77 lbs.
(34.93 kg)
Model Number: AFB6600
Price: $1,145
Phone us today for more information, toll free!