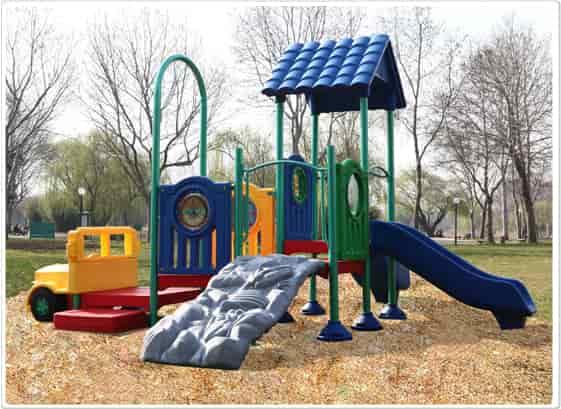 We have a wide variety of outdoor playground equipment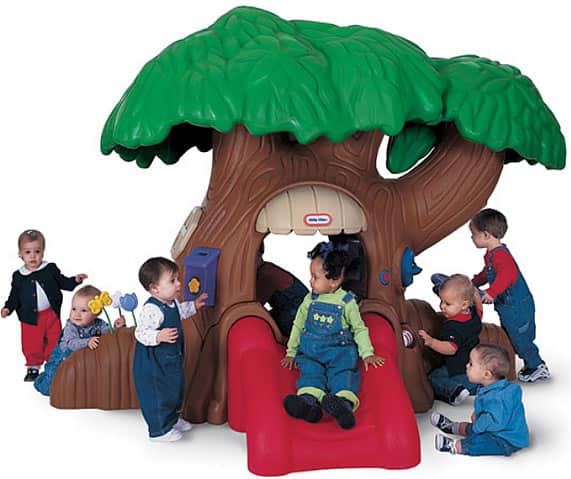 Check out our selection of indoor equipment
Our school playground equipment is available here for two main age groups: pre-school age (2 to 5 years) and school-age (5 to 12 years). We also sell school playground equipment for both indoor and outdoor use. For indoor use, we offer full-size contained play structures, plastic structures that slot together, vinyl play toys, tricycles, and more. For outdoor use, our play lines 

include "modular" structures, free-standing climbers and slide, swing sets, see-saw, fun tubes, and more. Whatever your needs, you can count on our commercial-grade play items, which are guaranteed to withstand even the heaviest use from children.
Most of our our outdoor school playground equipment secures in the ground with concrete. That said, it's not rocket science — measuring out the post locations, digging the holes, and pouring the concrete isn't difficult to do. But if you don't have someone available with basic construction know-how, just call us toll-free today. We install in the MD – DC – VA, and we can offer advice on the phone for your installation team outside that area.
We sell commerical playground equipment nationwide and we also install playground equipment throughout Washington DC, Maryland and Northern Virginia. If you have any questions or would like to get a custom quote, just give us a call at 877-840-0707.