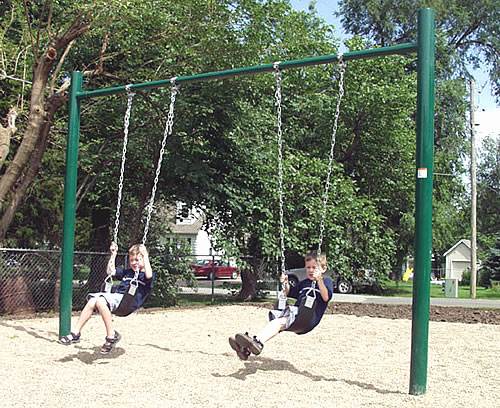 Our Single Post Swing brings simplicity and sturdiness to your playground or backyard. Its support posts measure 4.5″ (outer-diameter), so it can handle even the most demanding users. The Single Post Swing is available in 2 seats, 4 seats, 6 seats, or 8 seats (the photo above shows a 2-seat model). Click here to see available colors.
Included: All swingsets come with galvanized steel pipes, self lubricating swing hangers, 4/0 galvanized welded chain, and cut-proof seats. Different seats, chains, and hangers may be substituted at additional costs. (Click here to view replacement swing parts for commercial or residential use.)
Posts: 4.5″ outside diameter.    Top rail: 2-3/8″    Width: 12′    Height: 8′
Strength: When our company installs a Single Post Swing, we generally secure each post in place with no less than 400 pounds of concrete per post. This amount of support allows the Single Post Swing to tolerate use by adults, not just children.†
Manufacturer: Superior Recreational Products
† Note: This is not intended as a guarantee, nor do we recommend that adults use the Single Post Swing as a general practice. Rather, it is offered as an observation about our experience with this item, in response to questions we have received from customers.
Pricing: Call for pricing at 877-840-0707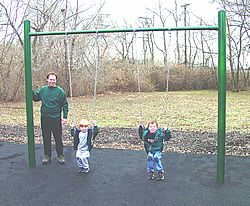 Interested in the 4.5″ O.D. Single Post Swing?
Call us TOLL FREE today!