Bye-Bye Bus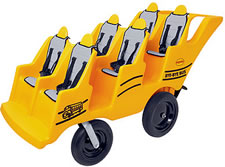 Get on the bus! This fun, themed buggy lets kids ride high in their very own school bus. It comes equipped with fat tires, to maximize protection and bump absorption. Please note that the Bus is' only available in a 6-seat model (for 4-seat Angeles buggies, please see our classic red Bye-Bye Buggies).
Bye-Bye Bus Features
Your Bye-Bye Bus has a variety of standard features that show you once again why Angeles is the leader in transport vehicles for small children.
Bright yellow with bus graphics
Easy to push, even on gravel
"Fat Tire" tested for 1 million revolutions with no wear on tires
360-degree pivoting front wheels, for easy maneuvering
Spokeless steel wheels
Easy-to-fasten seat belts
Terraced seating so all children can see
Fits through doorways
Built-in storage compartment
Available only with 6 seats (not 4)
Ships fully assembled (via freight only)
3-year guarantee
Each seat holds a child up to 40 lbs. heavy and 40″ tall
Optional heavy-duty cover, for storage (price: $109.95)
Optional canopies (please contact us for pricing)
So, those are the important points. In other words, the Angeles Bye-Bye Bus gives you all the strength and durability of the classic Bye-Bye Buggy, but with a fun school-bus theme that children will love.
Angeles Bye-Bye Bus
Price $3,295.00 Unit# AFB6400SB
Optional Add-Ons
The Bye-Bye Bus is also available with a large storage cover, and optional sun canopies for each seat.
Storage Cover
This durable, fitted polyester cover keeps rain and leaves out. It's water-resistant and color-stable. Easy to use. Folds up easily when you're not using it. Weight: 5 lbs. Price: $149.88. (Unit# AFB6450GY)
Optional Canopies
Perfect for shielding children from the weather elements, whether it's the sun's rays or the clouds' raindrops. Each canopy covers 2 seats. So, 3 canopies would be needed to cover all 6 seats of the Bye-Bye Bus. Price per canopy: $76.22 (Unit# AFB6500GY)