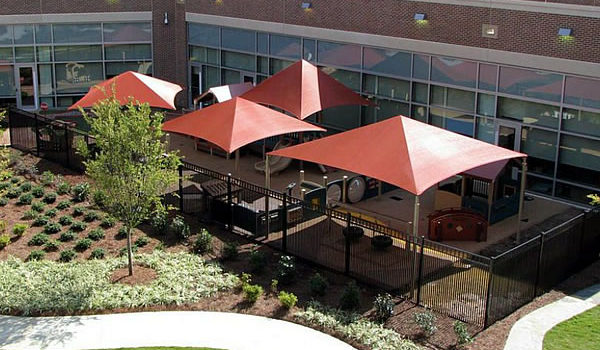 With temperatures seemingly on the rise each year and UV rays becoming more of a concern, shade structures are becoming popular with schools, playgrounds, daycares, businesses and even governmental agencies. A shade structure is a canopy shade upheld by steel posts or in some cases one post. These are high-quality items that come in a variety of shapes, designs and colors. Installing a shade structure requires light construction. There is a good chance that you've seen one yourself at a local school, daycare or any sort of entity with an outdoor area that needs  shade protection during the warmer months. You probably noticed different designs and colors and may be considering one for your organization. At this point, you may just be entertaining the idea of getting a shade structure or already putting together a budget. Keep in mind that having a shade structure installed takes some time, planning and resources. First, you need to figure out the exact dimensions of the area that you want to shade. Second, you need to decide what type of shade works best. While sail shades are the most stylish, they generally do not provide as much shade as a standard 4-post square or rectangle canopy. Before you make these decisions, you may be wondering whether or not your organization or school even needs a shade structure and where one would fit best. In reality, you can place a shade structure anywhere, but there are some places where they seem to be the most common. Below are five popular places for a shade structure.
 1. A school or daycare is a great place for a shade structure

In the past few years, daycares and schools have become prime locations for a shade structures. Daycares in particular just makes a lot of sense for a shade canopy. The playground and sandbox area are highly used areas in most daycares. However, it is also important for pre-kindergarten aged children to be protected from the sun during the warmer months. Adding a shade structure to your daycare also makes it a more attractive for potential customers as most parents would appreciate the extra shade protection. K-12 schools are also finding it more useful to add a shade structure in outdoor play areas. While adding a shade structure is an investment and process, adding a high-quality shade will last for years and make any school more appealing.
2. An Athletic Field or Stadium

Athletic fields and stadiums are quickly becoming popular destinations for shade structures. It makes sense considering that most outdoor sporting events take place during the warmer months. Everyone knows that it isn't much fun to sit and watch a game or event for hours while being exposed to sun. 30 or 40 minutes at a time is fine, 2 hours or more can leave you sunburned and overexposed. While schools may opt to add a structure to their athletic facilities, many universities and professional entities also utilize shade structures in particular areas.  Shade structures are particulary beneficial to cover bleacher and seating areas. Whether it is for a baseball, football, soccer, tennis, track and field or any sort of sporting event, a high-quality shade will definitely add protection, style and value.
3. Pools are popular places for shades structures

Everyone likes to hang by the pool in the summer and get some sun. A little sun is healthy and a nice tan will have you looking good. However, we all know that being overexposed to the sun quickly leads to sunburn and is dangerous. Harmful UV rays are not something to take lightly. While we enjoy being outside and taking a dip in the pool, it is also nice to have the option to take a break and sit under  the shade. Shade structures are a perfect fit for swimming pool areas. If you run a private business or resort, your customers will definitely appreciate the extra protection and option to get out of the sun, relax, listen to music or read a book.
4.  Parkings lots need lots of shade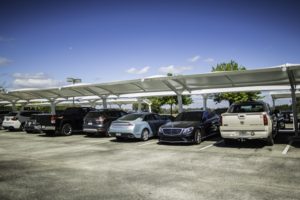 Parking lots also becoming a popular place to construct a shade structure. If you have ever left your car in a suburban parking lot and then come back after 8 hours in the office, you know how hot the interior of the car can become. Many businesses and offices are opting to shade at least a portion of their lot. It not only looks nice and adds real value to your business, but it will be much appreciated by your employees and customers. The reality is that the summer months are getting hotter each year, so why not add protection, keep cool and alleviate the stress of the hot summer months.
5. Parks are great places for shade structures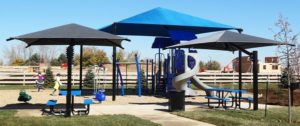 Parks have recently become popular places for these types of shade structures. Whether it is covering a playground area or just a seated area, shade structure canopies just make a lot of sense in a park. The is particulary true for newer parks that have a lot of open areas and less trees than traditional ones. Shade structures work well to add much needed shade over picnic and BBQ areas. We all love being outdoors during the warm months, but it is also important stay protected and cool during the those long summer days.
As you can see, shade structures are a great addition for schools, daycares, parks, athletic fields, swimming pools or any sort of outdoor area that you may have in mind. If you would like to find out more about shade structures or even get a brochure, just get in touch at 877-840-0707.