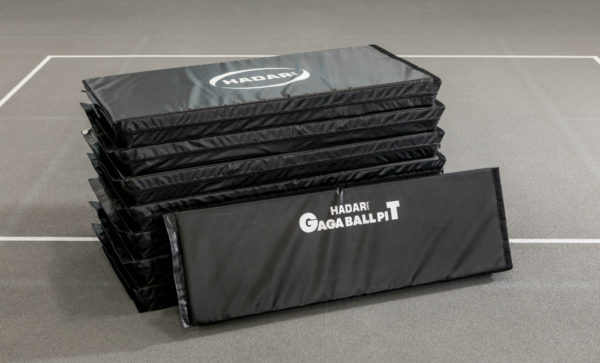 Hadar Athletic Gaga Ball Pit provides a safe and fun way for kids to exercise and play inside or outside. Each pit is made out of two types of foam, giving a harder inner surface for the ball to bounce off and soft padding for players who collide with the wall. The walls are light enough to carry and come apart individually with velcro, making it easy for kids or adults to quickly set up or teardown. Hadar Athletic Gaga Ball Pits are made in the USA.
Specifications
15 Foot Inner Diameter
36" Wall Height on 7 Panels (24" height on Single Entry Panel)
18oz Vinyl
2" EPE Foam on the inside diameter for firm ball bounce back
4" Urethane Foam on the outside diameter
6" Total thickness
Key Features
Takes 10 minutes to set up & 5 minutes to teardown for an adult or group of students
Pit wall is made up of 8 foam panels which attach together with velcro strips
36″ wall height on 7 of the panels contains the ball within the pit
Entry panel (24″ height) allows for easy entry and exit for kids
Foam is light enough to carry but durable enough to last with indoor or outdoor use
How to Order GaGa Ball Pits
1. Determine the design and size of Gaga Ball Pit you'd require.
2. Fill out the request an estimate form or call us for an estimate at 877-840-0707. An estimate will include the price of the Gaga Ball Pits plus the cost for shipping.
3. We will email you back a custom quote. Once you are satisfied, you can call us back and pay over the phone. We accept Visa, MasterCard, American Express, Checks and Purchase Orders.
If you have any questions or would like a custom quote, just give us a call at 877-840-0707