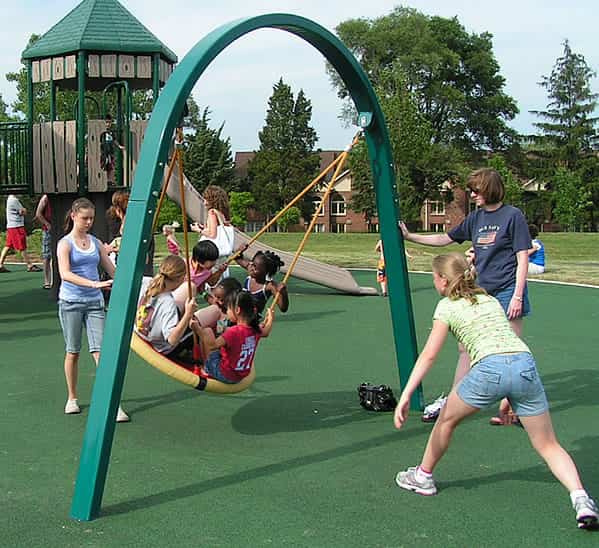 This European-design Biggo solo swing set brings innovative fun to your commercial or residential playground. The unique swing seat fits up to 4 children at one time. The seat is made from light aluminum and has a rubber safety bumper, minimizing the risk for children standing nearby. The Biggo Solo Swing is manufactured by Dynamo Playgrounds, one of the most exciting names in playground equipment design. It's available in a variety of different colors of frame and seat, at no extra charge (see below). It's also available in larger models with 2 swings or 3 swings.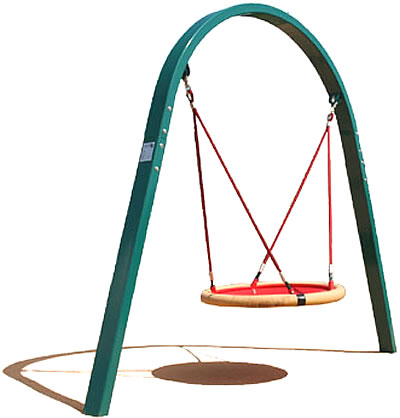 Ages:
2 to 12 years
Capacity:
4 children
Dimensions:
Width: 12 feet / 3.6 meters
Height: 9 feet / 2.8 meters
Use Zone:
Length: 28 feet / 8.5 meters
Width: 24 feet / 7.3 meters
Fall Height:
ASTM / CSA: 7 feet / 2.13 meters
EN1176: 1.30 meters
Total Weight:
990 lbs. / 449 kg.
Price:
US $12,790.00
Frame Colors
Available:
Blue, green, red, tan, brown,
black, yellow, white
Rope Colors
Available:
Blue, gold, green, red, brown, black

Color selections are available at no extra charge. Other colors
may be special ordered for additional cost.
Interested in the Biggo Solo Swing? Call us TOLL FREE at 877-840-0707