The Fort Adams is a sturdy, basic structure that stands up to demanding use on your commercial playground or in your backyard! There are two configurations available: deck heghts of 5 feet tall or 3 feet tall. The standard, 5′ model measures 7′ x 16′ x 12′ tall. Price (either model): $1,913.00 (excluding shipping). If you have questions about purchasing this product or any other of our playground equipment, just give us a call during business hours (8:30am to 5pm EST) at 877-840-0707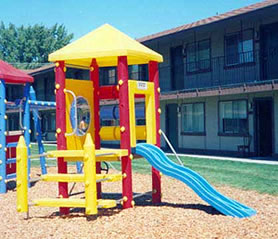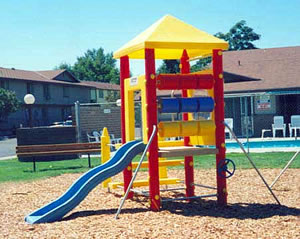 Standard Configuration: 5′ Deck Height with 10′ Slide
Optional Configuration: 3′ Deck Height with 6′ Slide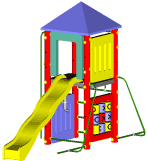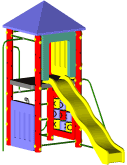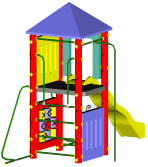 This configuration is better for smaller children. Please note that you must specifically request the 3'deck configuration when ordering, or you will receive the 5′ configuration.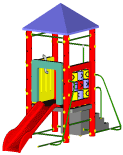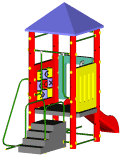 PRODUCT SPECIFICATIONS Both 5′ and 3′ Deck Heights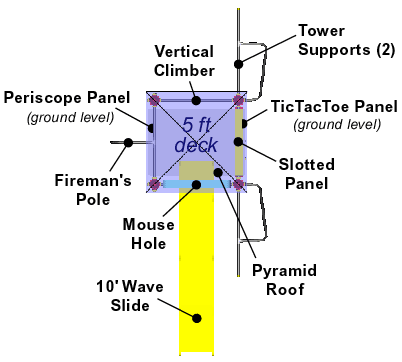 Specifications:

12′ tall (to top of pyramid roof)

7'x16′ in actual size

19'x28′ Safety use zone (6′ around whole structure)
Available in 2 different deck heights (5′ or 3′) at the same cost.
Available in various color schemes
Shipping Weight: 500 lb

Components:

4-Crayon Tower (1)

Pyramid Roof (1)

5′ Play Deck (1)

Mouse Hole (1)

Fireman's Pole (1)

Periscope Panel (1) residential applications/Steering Wheel Panel (1) commercial applications

Vertical Climber to 5′ Play Deck (1)

Tower Support* (2)

Tic Tac Toe Panel (1)

Slotted Panel (1)

*Note: Optional, In-ground supports are available at no extra charge. They replace the standard surface support system. Please specify this change when ordering.