The Fort Jupiter is a large, fort-based play structure that has 2 slides, 2 towers, and 1 curved tunnels between them. The Fort Jupiter measures 28.5′ long x 24.5′ wide x 12′ tall. Great for commercial playgrounds or large residential play areas.
Price: $11,484.00 (excluding shipping). For more information, call us at 877-840-0707.
Size: 28.5′ x 24.5′ x 12′ tall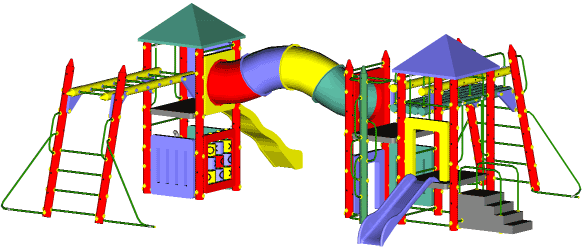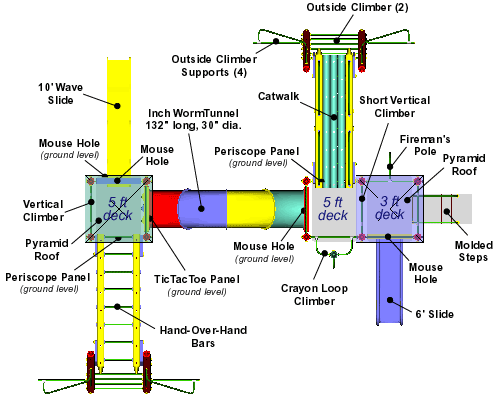 Specifications: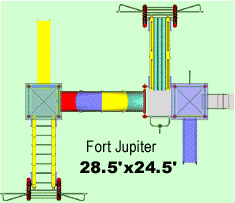 12′ tall (to top of pyramid roof)
28.5′ x 24.5" in actual size
Available in various color schemes
Shipping Weight: 1,600 lbs.
Components:
4-Crayon Tower (1)
6-Crayon Tower (1)
Pyramid Roof (2)
3′ Play Deck (1)
5′ Play Deck (2)
6′ Slide (1)
10′ Slide (1)
Mouse Hole (4)
Inch Worm Crawl Tunnel, 11 ft long, 30″ diameter (1)
Fireman's Pole (1)
Periscope Panel (2) residential application/Steering Wheel Panel (2) commercial application
Tic Tac Toe Panel (1)
Vertical Climber to 5′ Play Deck (1)
Short Vertical Climber from 3′ Deck to 5′ Deck (1)
Molded Steps to 3′ Deck (1)
Catwalk (1)
Hand-Over-Hand Bars [Monkey Bars] (1)
Crayon Loop Climber (1)
Outside Climber (2)
Outside Climber Support* (4)
*Note: Optional, In-ground supports are available at no extra charge. They replace the standard surface support system. Please specify this change when ordering.
Residential applications also include:
Belt Swings (2) installed below Hand-Over-Hand Bars
Glider (1) installed below Catwalk
Note: Commercial applications should have swings as a separate unit.
Important: All play systems should be installed on a resilient surface. Please follow CPSC safety guidelines. In addition, all non-residential applications need to meet the guidelines for minimum play area surrounding any playground equipment by allowing a minimum 6 foot clearance on all sides, and a minimum of 12 foot clearance for swing sets.