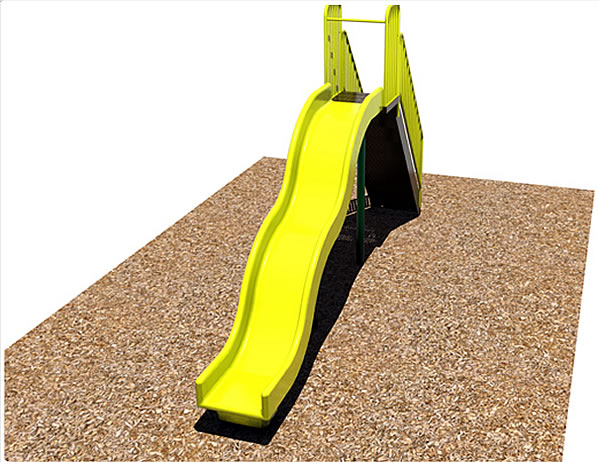 This Freestanding Bump Wave Slide unit gives kids a fun ride! The slide is made from sturdy polyethylene, so it will last for years. There's a transition bar above the slide to help kids safely go from standing to sitting. The deck is made from 12-gauge punched steel with a thermoplastic coating. The vertical posts measure 3.5″ diameter, the same thickness as many multi-deck playground structures — so you know this freestanding slide is tough!

The posts are powder-coated painted, and they're available in a variety of colors. The steps are made from steel, and they have a thermo-plastic coating. There are galvanized steel hand rails going up to deck level on both sides, and they connect with the two vertical rung walls enclosing the slide entry platform. Recommended for ages 5 – 12. Dimensions: 3′ x 6′ x 17′.
Free Standing Bump Wave Slide
Use zone: 15′ x 29′  Weight: 695 lbs.
Unit#: 902-292   Price: $3,899.00
Please note that prices exclude shipping and handling. If you have any questions about the Free Standing Slide, phone us toll free.
Construction and Installation
In the Washington, D.C. and Baltimore metropolitan area, we furnish and install playground equipment. We can also move existing equipment, and demolish obsolete, dangerous playgrounds. Other related services include grading, drainage, resilient surfacing, borders, and retaining walls.