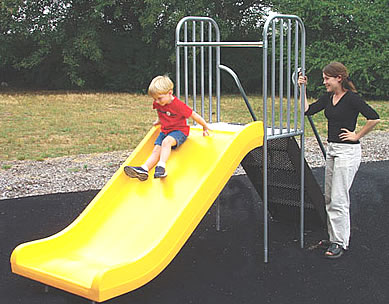 This free standing Junior Playslide offers wide sliding fun for the preschool kids on your playground. The transition deck on this sturdy piece of playground equipment is enclosed with galvanized steel pipe wall on both sides. The deck itself is coated with rubber. The steps have galvanized steel safety rails going up to deck level on both sides, also coated with rubber. The slide is made from sturdy polyethylene. It is 7'6″ long, and its bedway is 36″ wide. There's a horizontal bar above the slide to help kids make the transition from standing to sitting. The deck height is approx. 42″. Recommended for ages 2 – 5. Dimensions: 3′ x 14′.
Free Standing Junior Playslide
Use zone: 15′ x 25.5′  Weight: 390 lbs.
Unit#: 311-433   Price: $2,126.00
Please note that prices exclude shipping and handling. If you have any questions about the Free Standing Junior Slider, phone us toll free.
Construction and Installation
In the Washington, D.C. and Baltimore metropolitan area, we furnish and install playground equipment. We can also move existing equipment, and demolish obsolete, dangerous playgrounds. Other related services include grading, drainage, resilient surfacing, borders, and retaining walls.