Our company no longer sells rubber playground mulch. Instead, we recommend certified engineered wood fiber.
Click for more information about fiber.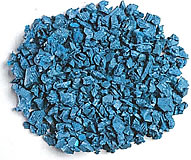 Rubber playground mulch is popular on commercial playgrounds, and it's available in lots of fun colors. But is it safe?
Our company supplies and installs resilient surfacing for hundreds of playgrounds in the Maryland – Washington, DC – Virginia area, including safety wood chips, engineered wood fiber, rubber tiles, and Poured-in-Place liquid rubber. We've been in business since 1986. Recently, we discontinued distributing rubber mulch. There are several reasons:
In hot, sunny weather, rubber mulch gets hot. Rubber mulch absorbs the heat of the sun. On a hot summer day, the mulch also gets hot — sometimes, uncomfortably so for children.
In hot, sunny weather, rubber mulch gives off an odor. Rubber mulch is made from shredded rubber. After a while in the hot sun, it gives off an unpleasant, oily smell. If you've ever driven by a car tire dump, you'll know what we mean. In 2011, our company removed rubber mulch from two local playgrounds at the owners' request and at considerable expense, replacing it with engineered wood fiber.
Colored rubber mulch can leave colors on kids' clothes. Colored rubber mulch isn't made from colored tires; rather, it's made from black tires that are shredded and then dyed. Some manufacturers don't use top-quality dye, so the colors on some rubber mulch chips can run, especially in warm weather.
Rubber mulch may contain harmful substances. Several organizations claim that rubber mulch contains high levels of zinc and polyaromatic hydrocarbons. Beyond the chemical content, some of the cheaper rubber mulch may contain pieces of wire that are found within car tires that get shredded.
The decision about what type of playground surfacing to use is, ultimately, the consumer's choice. Whichever type of surfacing you choose, you can never go wrong by following the official playground safety guidelines. The U.S. Consumer Product Safety Commission's (CPSC) Handbook for Public Playground Safety is a short, easy-to-read publication (click here). "Public playground" includes private commercial playgrounds in schools and daycares. Fifteen states have adopted the CPSC guidelines as law in whole or in part, so if your playground is located there, hop to it! (Click here for a list of the states.) In other states, you don't have to follow these guidelines, but doing so will help to show that you have operated your play area using "reasonable care," a common standard in negligence lawsuits.
LINKS
For more information on playgrounds and playground safety, the following organizations offer useful advice and guidelines:
• U.S. Consumer Product Safety Commission (CPSC)
• International Play Equipment Manufacturers Association (IPEMA)
• National Playground Safety Institute (NPSI)
• American Society for Testing and Materials
• National Program for Playground Safety
• Centers for Disease Control and Prevention — factsheet on playground injuries
• National Safety Council
• ADA Accessibility Guidelines for Buildings and Facilities (ADAAG)
• Maryland-National Capital Park and Planning Commission (M-NCPPC)
---
André Henderson is Communications Director for Maryland Materials, a national seller and installer of playground equipment and parts. He is also a Certified Playground Safety Inspector (CPSI) and a licensed attorney in the District of Columbia.
Note: The information provided in this article is not to be considered legal advice. For legal advice, please consult a licensed attorney in your jurisdiction. Maryland Materials will not be held liable for any actions taken in reliance upon this article.