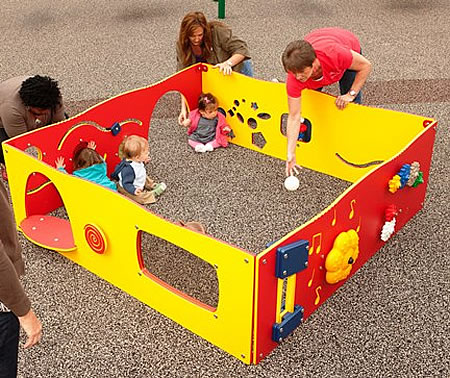 The Learn-A-Lot combines multiple activities in one fun crawlspace. Toddlers can use it from the inside or the outside. And it's short enough for parents and teachers to directly supervise the kids. This unit has 4 panels, forming a square (a 2-panel model is also available).
Capacity of this play unit is 16 children. The play events include bells; gears for turning; a mirror panel; and a store counter. This structure's development play benefits include the following:
Object Recognition
Fine Motor Skills
Expressive/Receptive Language Skills
Gross Motor Skills
Dramatic Play
Cause-and-effect
Learn-A-Lot.
Dimensions: 74"L x 79"W x 24"H. Use Zone: 12'2" x 12'7".
Price: $3,019.00 (excluding shipping).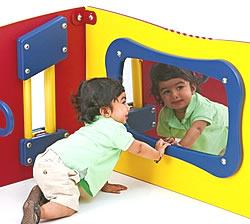 Mounting Kits
In-ground Mount Kit (using concrete) $96.00
Surface Mount Kit $59.00