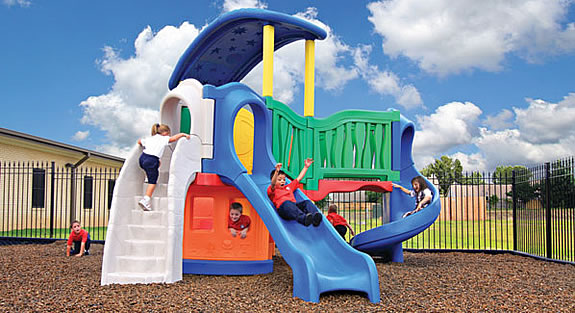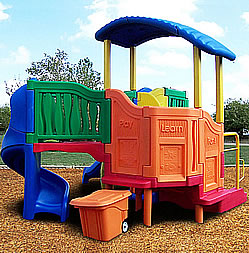 The "All In" Clever Climber from Little Tikes Commercial is a sturdy yet economical solution for playground fun for your 2 – 5 year age group.
This great structure has 2 slides: 1 full spiral slide, and 1 straight double wall slide. This unit also has a ground level store panel and a stone-themed entrance. It has several panels, including a dino flyer panel and a driving panel.
The "All Out" is also compliant with the Americans with Disabilities Act (ADA) because it has a transfer station for special needs access.
The posts on this structure are made from roto-molded plastic. They attach to a metal frame (supplied). You just need a basic tool kit to assemble this unit, not any machinery or concrete.
The "All Out" model can be secured in the ground in 3 different ways: with anchor bolts, with spikes, or with concrete.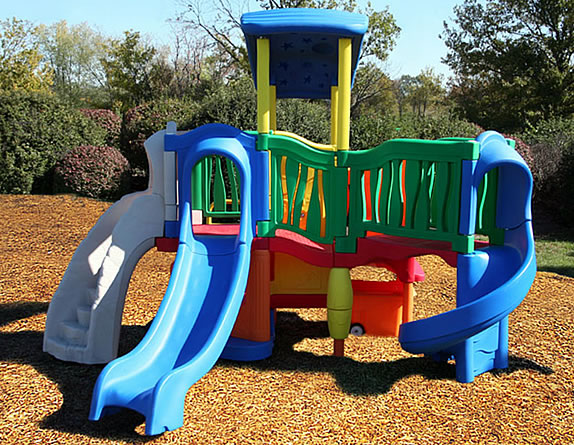 Manufacturer: Little Tikes Commercial
Ages: 2 – 5 years
Footprint size: 15′ x 16′
Use Zone: 27′ x 28′
Colors: Three color combinations available (contemporary, natural, and primary)
Price: $8,445.00 (+ freight)
Model# 200201328