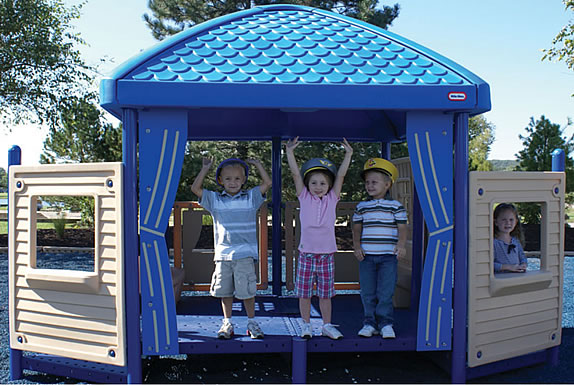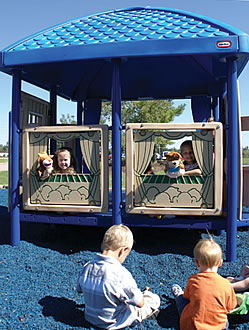 The Little Tikes Toddler Drama Village lets your kids perform on the playground!
Dancing, drama, and creative events of all kinds are possible in the Drama Village. Whether it's a planned event for your school, or just make-shift performances during recess, the Drama Village has got your kids covered.
The "stage" is made of steel platforms dipped in commercial-grade protective covering, and there are decorative curtain-themed panels on either side of the stage. Outside the curtains, there's an independent play panel on both sides of the stage, so more kids can join in the fun.
And on the back of the structure, there are 2 more panels, so kids can have multiple shows going on (see photo at right).
The posts of the Drama Village are made from steel, and secure in the ground with concrete. The roof is made from roto-molded plastic. The panels are made from high density polyethylene.
This structure installs in the ground using concrete. Unfortunately, there's no surface-mount option; it's sufficiently heavy that posts must be dug and poles sunk in the ground.
The Drama Village is designed for use by kids ages 2 to 5. For more information, just phone our Sales Dept. toll free today.
Manufacturer: Little Tikes Commercial
Ages: 6 months to 24 months
Weight: 1,615 lbs.
Price: $Please phone us (excluding freight)
Model# QU45081