Spring toys are available here various models. These spring platforms and vehicles come from the top manufacturers in the playground business. You can rely on Maryland Materials to put a bounce in your commercial or residential playground with our spring toys. Price includes spring, hardware, & instructions. Springs are available in black only. If you have any questions, phone us toll free today!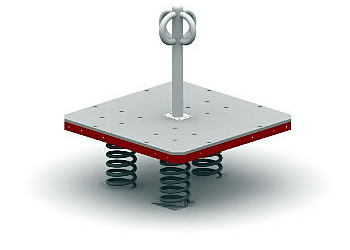 Deck with Springs
This fun spring platform has a vertical post with a handle that several kids can hold onto. The platform measures 2'11" x 2'11", and it is 12″ above ground level. Note: the use zone is 6′ in all directions, so this item should not be placed close to another structure. Price includes springs, hardware, and instructions.
Price: $991.00
---
Straight Balance Beam on Springs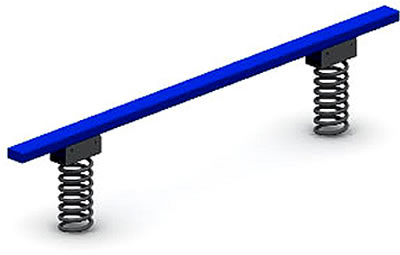 Straight Balance Beam on Springs. Give your kids a whole new level of balancing fun with this spring-based model. Actual size: 8′ long x 4″ wide. Height: 12″. Use zone: 22′ x 14'4″. Manufacturer: Childforms.
Price: $860.00 Unit# BAL-00011
---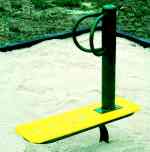 Single Spring Surf Rider
Surf's up with our fun spring Surf Rider. This model is appropriate for one user. The use zone is 14′ x 17′. The deck is made from vandal-resistant high density poly-sheet. The frame is made from steel that has beenpowder- coat painted. Safe and durable "C" spring. Various colors of frame and deck available. Price includes spring, hardware, and instructions.
Price: $847.00 Unit# SB-02