Playground net climbers in the double-post design go by the name of the Two Towers. They're available 2 different models: the Regular and Large, (both for ages 5 – 12). The cables are made from steel-loaded polyamide, and they have a UV guard. These net climbers bring movement, balance, exercise and fun back into the playground. Each type of net climber is available in several colors. The Two Towers net structures range in height from 12 feet (the Regular) up to 18 feet (the Large). They're manufactured by Dynamo Playgrounds, one of the most exciting names in the playground equipment business.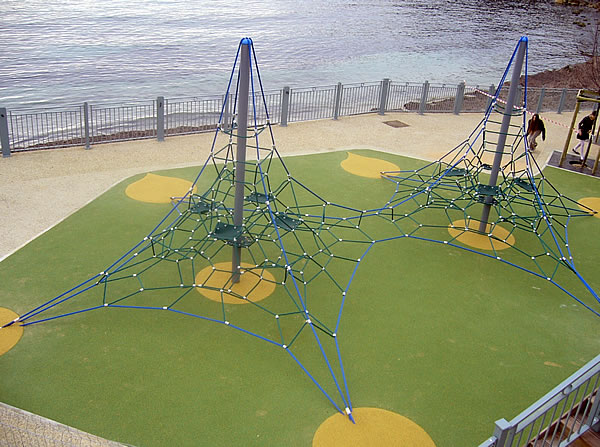 Two Towers :: Regular
(Ages 5 – 12)DX-101-2

Capacity: 60

Height: 12′ 10″

Price: $50,295


Two Towers :: Large
(Ages 5 – 12)DX-201

Capacity: 93

Height:18′ 8″

Price: $37,965
Call us at 877-840-0707 to get a quote for any of our Dynamo Net Climber products. We are authorized vendors of dynamo.