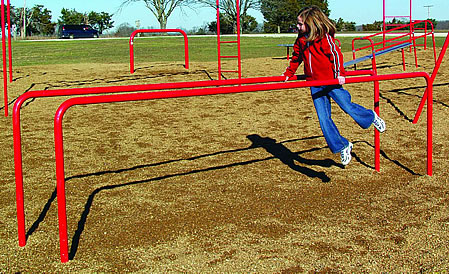 A gymnasium on your playground.
These classic Parallel Bars are great for building arm strength and shoulder stamina. They measure 12′ long and 3'6″ high. The bars are built from steel tubing that measures 1-7/8″ outside diameter. Available in plain, uncoated steel, or coated in many different colors. Ground space: 2′ x 11′.
Parallel Bars weigh 76 lbs. total. (#511-108)
$545.00 with painted bars
$420.00 for unpainted metallic bars
---
Perplexed by the Parallel Bars? Call us TOLL FREE.
Construction and Installation
In the Washington, D.C. and Baltimore metropolitan area, Maryland Materials furnishes and installs playground equipment. We can also move existing equipment, and demolish obsolete, dangerous playgrounds. Other related services include grading, drainage, resilient surfacing, borders, and retaining walls.