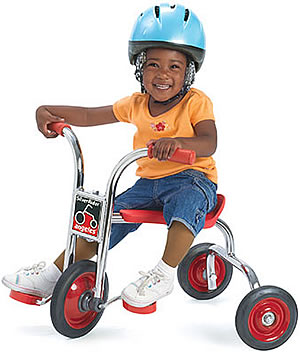 Tricycle fun is part of the toddling process, building balance and leg power. Turn your toddlers loose today on our great Pedal Pusher Tricycles. They're made by  Angeles, the leading name in rapid child transport.
Lightweight for toddler riders
Solid rubber tires
Spokeless steel wheels
One-piece welded crank
No exposed hardware on pedal
Durable chrome plating
Frame-mounted seat with back support
Replacement parts and Mr. Good Pedal lifetime service available
Ships fully assembled
5-year guarantee
8″ Pedal Pusher
AFB3200SR SRP $169.95
(Recommended for Ages 18-24 Months)
Seat 12 1/2″H, Handlebars 19 1/2″H,13 lbs.

10″ Pedal Pusher
AFB2700SR SRP $179.95
(Recommended for Ages 24-36 Months)
Seat 13 1/2″H, Handlebars 20 1/2″H,15 lbs.